Social media platforms have served purposes beyond human imagination. Places where we can't physically reach, social media has gone and returned.

What Are Social Media?

Social media are digital and interactive platforms that enables the creation, sharing, storing, retrieval of information, ideas and expressions. A lot of platforms have made this sharing an attainable feat. These sites include Facebook, LinkedIn, Instagram, WhatsApp and many others.

These sites are all about human-to-human interaction. Though, recently there's communication with artificial technologies. This can be seen in most chat platforms where the AI is programmed to respond to a client.

Information, ideas and expressions could be communicated in lots of ways. They include: text, video, image, motion graphics. All these formats have ensured that communication is achieved and properly understood.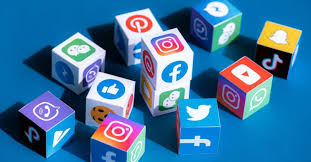 How Social Media Has Helped Solve Problems In Countries

Social Media as a Source of Public Health Awareness
The social media has become a ground for health officers to disseminate information on health.
A typical example is seen during the COVID 19 period. A lot of countries became alert to the spread of virus due to the power of social media. Countries started taking precautions and measures to prevent and reduce the cases of COVID.

When COVID became a global pandemic, the world was kept abreast of its spread and vaccines needed to keep it a bay. All this were made possible due to the power that social media wields.

Imagine if there were no social media, the death toll would be high. Because it will take a longer time for countries to know what is going on and best measures to tackle it.

Social Media Has Helped to Govern and Be Governed
Relationships between the government and public is enhanced. The masses get to pour out their minds on social media whilst the government get to respond to the masses through the social media. This can be seen with the press releases and tweets done by the governments.

Citizens of a country can engage with each other and discuss the best ways to tackle some issues. They can also discuss the best candidates for elective offices.

Also, communication between countries is facilitated. In the event of distance barriers, countries get to communicate and resolve issues using the social media.

Social Media as Served as a Response to National Disasters
In the face of natural disasters like flood, tsunamis, earthquakes; the social media reports it. This helps such places to get help from well-meaning individuals, companies and countries.

During the Haiti earthquake, the world got news from social media. Immediately and consequently, help came from various countries in the form of aids, professionals like doctors, nurses, therapists and many others.

Social Media Helps in Preventing Violation of Human Rights
In majority of the developing countries, the human right of the poor masses is always trampled upon. And they hardly get justice for mistreatment meted out to them. Social media platform can help raise the voice of the masses against injustices. Thereby getting the attention of the lawyers or rightful places where their voices can be heard.

How Social Media Has Helped Create Problems in Countries

Despite being a tool for various useful purposes, social media has created problems in various countries. Some of these problems are:

Social Media as a Means of False Information
The social media has become a platform for disseminating bot true and false information. However, majority of the time, the fake information seems to spread faster than the truth.

False information spread through this platform can set feuds between members of a country and members of different countries. Misinformation can also be a factor and possibly result in bad blood between nations.

Co-ordination of Terrorist Groups
Various terrorist and militia groups are vocal on the social media. They use the social media as a means of recruiting supporters.

For an example, in 2014, the radical Islamic Militia ISIS had many Instagram accounts to broadcast their propaganda and showcase the masked ISIS fighters brandishing Kalasnikovs. Though Instagram responded by blocking such accounts, but number of recruits done online is unknown. Also, number of supports gotten online before the blocking is also unknown.

Conclusion
Social media can either be used for good or bad. But the usage of each social media is dependent on the handler.
Truth be told, the usage of social media for creating problems can't be totally annihilated. But we can improve on the use of social media in solving problems in our countries.