Life Lesson Engineering teaches us.
What Engineering is:"A good engineer is a person who makes a design that works with as few original ideas as possible. There are no prima donnas in engineering",
When it comes to Engineering, It's a 4-year dedicated study in various fields to reshape the idea to productive outcomes.
What we Made it: "4 saal ki engineering, 4 saal ki Naukri, Fir ek chokri, Aaal eej well!"
Engineering is not only a study of 48 subjects, it developing moral studies in intellectual life.
But the things we learn in these 4 years are the most amazing and memorable. We learn most of the things that we can't even think of performing live. Engineering help to bring the best of you. It is well said then if you through a stone to earth it was untimely hit an Engineer, This shows the strength of engineers on platforms, and engineers can work anywhere at any conditions at any instance.
Isn't is great, everyone pinpoints our weaknesses and we even make people smile with our meme's.
The things we learn from our engineering are much more than our academics that why can upturn any leaf present on the world.
Let's see what I learned from my Engineering life and let's see in the comments section who all have the same experiences.
Finish work regularly. Xerox your assignments and make chits in advance.
Having friends is priceless. Nothing beats bunking together.
Last night Stand still Work's, You can still pass even studying one night before the exam
When nothing works, just sympathy. You are in a Viva.
Never underestimate anything in life. Maggi and coffee is still the best alternative to mess food.
Campus placements are overrated. because backlogs top the list.
There's no point in studying too hard because Google still gives good answers.
The best friendships may not have the best beginnings.
Live in the present. Once the exams are done, go party, Open a Beer.
Life seldom gives second chances. Don't Worry MBA is calling you !!!
Sometimes, relying on Old Monk helps alot.
Believe in God, because God only helps in exam centers.
Life always has a solution. Not placed, I mean Try in IT companies.
Still, corridors are the best picnic spots to roam.

∙

Washrooms are the best meet-up point, especially during exams.
Be Realistic, Girls don't exist in mechanical and Civil.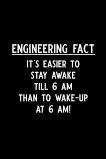 But with all this engineering is much more and it's a technical degree which makes a normal human being think out of the box. hey teach us the different side of World, We should not complain, instead accept the situation and work on them to change them, t's blow's the negativity out of the mind and welcomes the positivity in the once.
there will be many flows in your engineering, ut remember my dear friends more you polish the diamond more it will shine, take it as an opportunity and move on.
there is nothing impossible in the world, it's just the start we miss on.
and never depend on surrounding start crating yours, because they are the variables in your success journey,
Just think of the that where you stand among the others. Look for alternative's and work, Because never find opportunities they crate them, and resources are just excuses because see the biographies of the people you admire, even they reached to the peak without resources, then why are you standing at this very young age, Learn, work, commit mistake's, then learn from them, and keep the cycle going, unless and until you reach the peak of it.
If you find something amazing, then try it will change you completely.
Happy Reading.