Wi-Fi 6 (802.11 ax)
Introduction
In past people have always communicated with each other through words and actions while confronting the other person face to face. As the technology began to grew different advanced communication strategies were adopted. In this modern age communication era, there are various ways of communication but wireless communication is preferred among all. 
History of Wi-Fi
Wi-Fi is one such technology which uses radio frequency waves to provides wireless highspeed internet and network. Wi-Fi was first introduced to consumers in the year 1998. Here 802.11 X refers to protocols or standards developed by IEEE for wireless LAN. The term X is a suffix which is normally referred as versions or generation of Wi-Fi. 
Wi-Fi operates on 2 different frequencies: 2.4 GHz and 5GHz. 
As the technology developed there were different version of Wi-Fi.
In 1999:  Wi-Fi 1 (802.11 b) with a frequency of 2.4 GHz (1-11 Mbps).
In 1999:  Wi-Fi 2 (802.11 a) with a frequency of 5 GHz (1.5-54 Mbps).
In 2003:  Wi-Fi 3 (802.11 g) with a frequency of 2.4 GHz (3-54 Mbps).
In 2009:  Wi-Fi 4 (802.11 n) with a frequency of 2.4/5 GHz (72-600 Mbps).
In 2014:  Wi-Fi 5 (802.11 ac) with a frequency of 5 GHz (433-6933 Mbps).
What is Wi-Fi 6 (802.11 ac)
Wi-Fi 6 is the latest version of standard Wi-Fi technology which was adopted in the year 2019. Wi-Fi 6 can also be called as "AX Wi-Fi" or "802.11ax Wi-Fi" and it is the proposed to be the successor of Wi-Fi 5.
Wi-Fi 6 devices will not only work over 2.5/5 GHz bands, but will also support the standard over 6 GHz and has a link rate of 600-9608 Mbps. 
Key features of Wi-Fi 6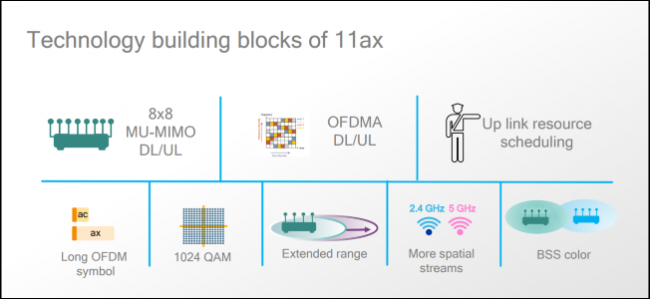 1.Faster data transfer speed.
The data speed in Wi-Fi 6 is expected is be up by 40% when compared to Wi-Fi 5 as it supports 1024 QAM and 160 MHz channel.
2.Improved performance in environment where there are more connected devices.
Wi-Fi 6 is expected to increase user's average speed by at least 4 times for those who live in densely populated area. 
3.Reduced power consumption.
Power consumption is reduced with the help of TWT (target wake time). TWT helps in increasing the sleep time of the device and improve battery life for mobile and IOT devices.
4.Provides connections with more devices.
With the help of 8*8 MU-MIMO, multiple users can access the router simultaneously without noticeable decreases in bandwidth quality.
5.Increased efficiency
Wi-Fi 6 make use of OFDMA, with which we can delivery multiple packets to multiple devices simultaneously which work for both upload as well as download.
Devices that support Wi-Fi 6
Wi-Fi 6 certification began on September 16, 2019. In order to connect a Wi-Fi 6 router, we need a device which supports Wi-Fi 6 i.e. if I want Wi-Fi 6 performance on my phone, I'll need both a router and a smartphone that supports Wi-Fi 6. 
Suppose If I connect my laptop that supports Wi-Fi 5 and my phone that supports Wi-Fi 6 to my Wi-Fi 6 router, then my laptop will operate in Wi-Fi 5 mode and my phone in Wi-Fi 6 mode. 
Some phones that support Wi-Fi 6 are iPhone 11, 11 Pro and 11 Pro max, Samsung galaxy note 10, S 20 even some laptop like Dell XPS 13, LG Gram 17 will also support Wi-Fi 6.