MY FAVORITE TECHNOLOGY: ARTIFICIAL INTELLIGEBNCE
NAME: Mr. ANEES AHAMED BAIG
                                                        Although am an Electronics and communication individual am very interested in coding. When I was entered into my graduation I was little weird about the programming later on I came to realize that my graduation going to play major to setup my career .so that I just started build my career at particular interest searched for trending technologies I found some interesting projects like Google duplex, Blue Brain etc,. I really admired by reading about that projects. Then I got affectionate towards AI. Day by day my interest to know and learn is increased. Very inspired thing that I had started attending the AI workshops, my first workshop is at IIT Hyderabad in 1st year of my Graduation. I started learning the Lovely language python. When I entered in Graduation 2nd year, I was little perfect at Python and attended my second AI workshop at Andhra University Vizag. And I had started searching for ML /DL challenges and get committed in that I deployed many mini and trending ML models .But I got a huge appreciation for Facial Emotion Recognition and Covid 19 detection using chest X ray by Dl. I had published an IEEE papers on that two topics.
INTRODUCTION TO AI:
John McCarthy was coined a name Artificial intelligence in the year 1956. He was a computer scientist at that time, and he believed that science and engineering are goanna create a machines with replica human intelligence and introduced a inter disciplinary concept AI                                          
ARTIFICIAL INTELLIGENCE (definition):
It is a technology where it going to perform like replica of human brain, simply to say the intelligence which was imitated as human intelligence is known as AI
WHY ARTIFICIAL INTELLIGENCE:
In this fast growing technology the world is depending upon automation. So the one and only technology has a capability of lead automation and innovation development in every sector. Coming to speed and accuracy thrills every human these AI will provide a great changes in updating and Innovation in every field. So AI is spreader and it taken a role as "HEAD OF TECHNOLOGIES"
PRE-REQUISITES OF AI:
Any programming Language prefer 'PYTHON'
Linear Algebra( vectors, derivatives, matrices)
TREE OF AI: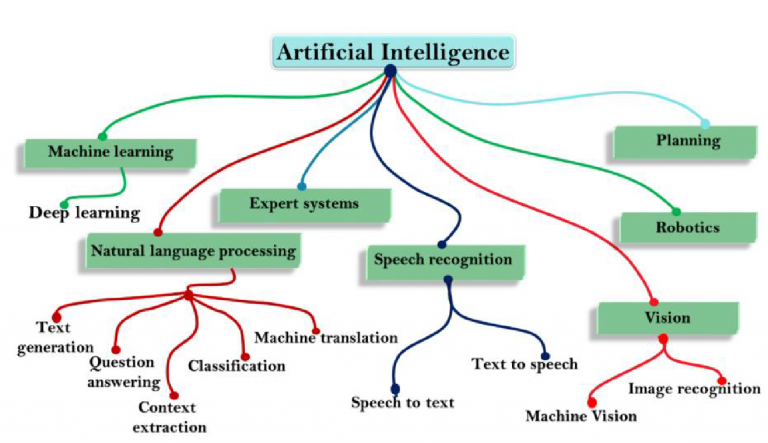 ROLE OF AI IN REAL LIFE:
There are lot many applications of AI which became dependencies in our day2day lives. If u takes our mobile phones in that the Virtual assistants like (siri, alexa, cortona) are the applications of AI. We use our Google Maps the Traffic prediction is AI. The translators we use AI. The automations like Autonomous cars and automation of houses and in entertainment sakes the Netflix and prime goanna take our taste of category and suggestion films all these things being happened due to AI.
For what stream AI related:
As we know the engineering and sciences consists of lot many branches but the majority of think that AI is related to computer science engineering because of it needs programming, the assumption is totally wrong because it is interdisciplinary program where it contains algebra and vector statistics probability theory these all things from different sectors .There is no conditions and restrictions to learn and implement AI. Any enthusiasts can have a chance to deploy AI in real world
FUTURE SCOPE OF ARTIFICIAL INTELLIGENCE:
In future the AI will become most common language from intellectual language. The real world is majorly going to depend on Artificial Intelligence where it getting a revolution in every sectors by problem solving. In future we can't even imagine our mobile phones and personal computer are goanna talk back to us we can't even imagine from basic holiday pack to most complex defense analytics it goanna solve. It is goanna integrate with human life
THE END