My favourite technology: Nitinol wheel – Sneha Gaikwad

The wheel is often described as the most important invention of all time as it had a fundamental impact on transport, agriculture and industry. Various materials have been used for making wheel which includes stone, wood and rubber.
Wheel is my favorite invention but not the conventional one used for day to day transportation. The wheel I am talking about is made of a smart alloy. The purpose for which it has been designed, the amount of research and efforts put into designing of this wheel can even termed as Reinvention of wheel.
The story of what lead to this invention would help us understand its importance.
This story starts with the keen interest of humans in studying outer space and extraterrestrial bodies.  One of these extraterrestrial body which many nations have been trying to reach is Mars and NASA has been far ahead of every nation in achieving this goal of reaching Mars.
In 2010 NASA sent a rover named Curiosity 1 to explore the surface of Mars. This rover weighs over              900 kg and moves at a speed of 0.15 km/hour on the Martian terrain. It cost about $2.5 billion. Even with all the research and it high cost this rover was only able to cover a distance of 20 km on whereas the opportunity rover sent to moon was able to cover a distance of 45 km.
This rover stopped its exploration after 20 km because of the failure of its wheels due to wear and tear.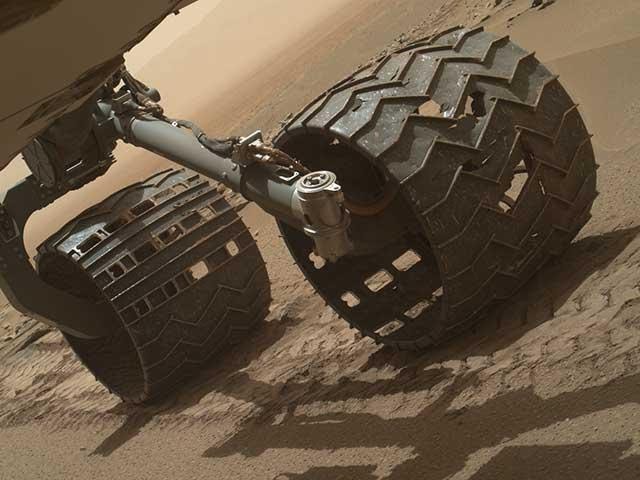 Even after moving at such slow speed the wheels were damaged because of the heavy load over it and the martian terrain. These wheels were 0.75 mm thick and made of solid aluminium. The thickness of the wheels were kept to minimum in order to reduce the launching cost. 
And traditional rubber wheels could not be used as the temperature in Mars can dip as low as -130°c which would turn the rubber into a brittle material and also U.V rays would degrade the rubber.
After this failure NASA and Goodyear started designing a special kind of wheel just for such purposes. They together designed a wheel using Nitinol which an alloy of Nickel and Titanium. Nitinol is a smart alloy. Smart alloys are materials which reverses deformation by temperature induced phase transformation.
But this is not the property which is of our interest. It is the property of super elasticity which makes this material useful for exploration on extraterrestrial surface. Super elasticity is the property due to which atomic bonds between atoms stretch to an extreme length without undergoing plastic deformation i.e., they can deform reversibly to very high strains (up to 10%).
We can design this wheel for desired level of stress by varying the percentage of Titanium in it and it is also lighter in weight. Because of this property a wheel made of Nitinol can continuously deform and revert back to its original shape while carrying such heavy load on the martian terrain.